"PTSD & What About Me? 7 Tips for Loved Ones of Those with PTSD" is the stirring talk Welby O'Brien gave at a VA Caregiver Conference, which was so well-received that we were asked to make it available (and free) to EVERYONE who cares for a Warrior battling PTSD.
Professionally filmed in an intimate setting, PTSD & What About Me? is designed to be viewed either by individuals or by groups. The first 90 seconds will give you a good feel for this heart-to-heart 35 minute presentation.
Brimming with information, insights and inspiration! Be prepared to laugh, cry and come away very encouraged.
Please download the accompanying outline/handout pdf: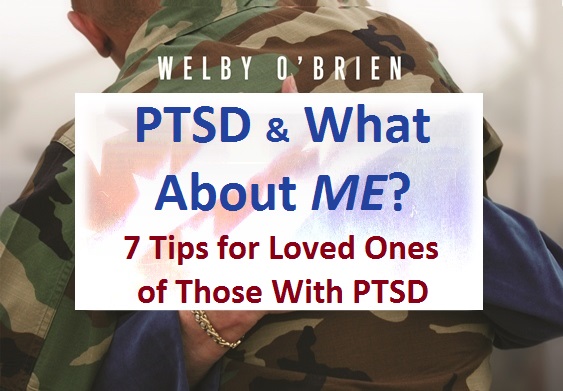 Of all the tremendous responses we have received, these sum it all up:
 "THANK YOU! You described me and my life and brought me to tears! I realized that I too am having triggers, compassion fatigue and SO much more. I also realized I need counseling, and I am going to try to take a PTSD class through our local VA. I realize now how much I am shutting down, while at the same time trying desperately to keep the wheels on the bus and keep everything from falling apart. I deeply love my warrior! Thank you again for sharing your video!" ~Hopeful Wife
"Those of us who have been in combat zones and under enemy fire are very hard to love, and as for me I want to say thank you for this really helpful video for those who care about me!" ~PTS Warrior
"This is one of the best things I have seen yet for Caregivers. Thank you!" ~ Honored To Be There for My Warrior
                              ***************************
For veterans and other PTSD survivors who wish to view this video:
This is a heart to heart talk for those who are in a caregiver/support role, and may be misinterpreted or not relevant in some spots by those who are not caregivers/loved ones of PTSD survivors. If you do choose to view it, please watch the entire video to get the whole picture; and if you find some parts triggering or disturbing, I encourage you to have a conversation with your loved one about it. The contents of the talk are a composite of many people's input, and not necessarily reflective of everyone. My hope is that ALL of us, caregivers and PTSD Warriors, will learn and grow and thrive in our journey together. ~Welby