What started out as an ordinary plane flight left me awestruck! No two women on the same flight could possibly have been more extreme opposites. I came home disturbed, astounded and inspired. Can people in this country be THIS blinded by self-preoccupation???
As the grateful wife of a Veteran who battles Posttraumatic Stress 24/7, I had just finished a very fulfilling speaking engagement to other wives of Warriors battling PTSD. Now I was ready to relax and unwind, eagerly anticipating some peaceful down-time as I headed back home. (And I would get more on my long layover when we landed.) I was thankful and relieved to be sitting next to a pleasantly quiet young lady, who did not say a word the entire flight, but seemed to be elsewhere as she gazed out the window.
The plane had barely gotten off the ground when behind me came a vulgar streak of profanity in a piercing female voice (which I'm certain carried throughout the entire plane). She let it be known that she already had a few drinks and was on her way to party in San Francisco for the weekend. Woo hoo!
Nosey person that I am, I had to sneak a peek. She was young, tall, wearing very short shorts, had lengthy tan legs, long golden hair, and a face that would sell a million magazines. Stunningly attractive by most standards.  What was missing, I realized later, was a smile.
As hard as I tried to tune her out, I could not. Every sentence out of her mouth featured the words "I" or "me." Gross self-preoccupation! I have never heard one person talk for so long about themselves …so loudly, and with such foul language. And it was not even interesting. (No movie rights to this one!) She was consumed with bars, places to go, men, etc. …all about what SHE liked, where SHE lived, what SHE wanted to do and what SHE wanted to see. Me. Me. Me. So empty! So annoying! So sad.
And still not a peep out of the lady next to me.
Finally we landed, but were informed that we had to wait on the tarmac for the gate to open up. All those who had connecting flights panicked! Passengers were abuzz with anxiety. Including the lady next to me. From the corner of my eye I saw her texting her mother asking for prayer. Would she make her connection?
Still no movement by the plane.
So we talked.
This quiet amazing lady was in the Navy – a Warrior – and was going for a 3 day weekend to meet her Navy Warrior husband in Hawaii, for the first time in a year and a half! And then they would have to wait another 16 months before they could be together again. Wow!
I expressed my heartfelt gratitude to her and her husband for their service and sacrifice. And what a gracious smile she returned. It truly was an honor to meet her!
Finally the plane arrived at the gate, and everyone scrambled. I watched as the first female (hardly a lady) took off running to catch her flight for 3 nights of partying in San Francisco, all the while spewing offensive expletives.
And turning, I saw my seatmate, truly a classy lady, running to catch her flight for 3 days of celebration and closeness with her Warrior husband.
As I walked on, I felt overwhelmed. Not sure just how, but I managed to pray for both, and gave thanks for one.
WE ALL MAKE CHOICES IN OUR LIVES
THAT REFLECT WHAT WE VALUE AS TRULY IMPORTANT.

The irony is that the one lady (along with her husband) is giving her all
so the other female could have the freedom to do and say what SHE wants…
totally oblivious to what it has cost millions of our best.
We who live in this free country have SO MUCH for which to be thankful. I hope more people wake up soon and realize it!
Thank you once again to ALL who have served and sacrificed, and to so many who will continue to do so (such as my amazing husband) for the rest of their lives. God bless America and God bless you!


************************
Welby O'Brien loves her Veteran husband as they face the daily challenges of PTSD. With a Masters Degree in counseling, she has authored the book LOVE OUR VETS: Restoring Hope for Families of Veterans with PTSD and leads the LOVE OUR VETS – PTSD Family Support network. www.LoveOurVets.org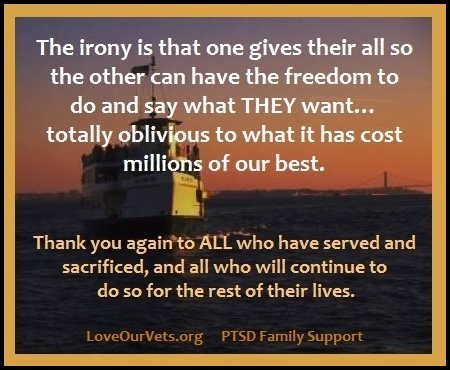 Love Our Vets – PTSD Family Support, LLC on Facebook